25 Best Social Work Degrees 2020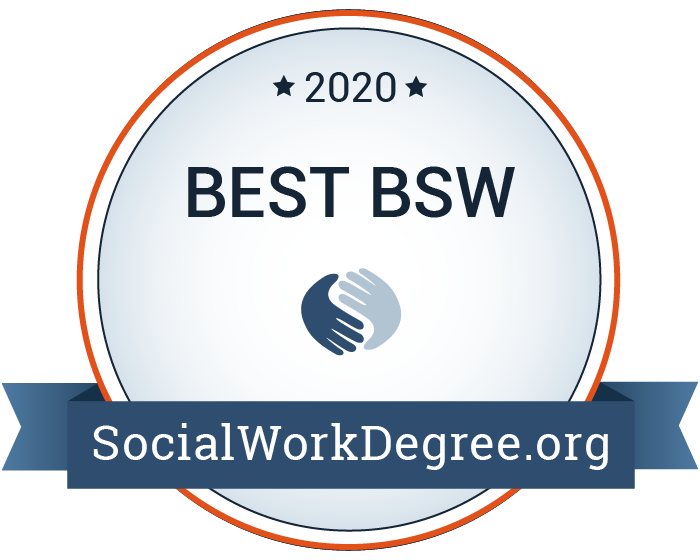 To help students make the best financial decision, we ranked the top 25 schools that offer BSW programs based on the median net monthly income one year after graduation. Minot State University tops the list with a starting monthly income of $3,277 for BSW graduates. CUNY Lehman College's BSW students graduated with $118 in monthly student debt payments, the lowest median debt out of students at these top social work schools. Students who graduated with a BSW from one of the top 25 schools had a median net income between $2,762 and $3,277 per month.
Below, we also highlight the best BSWs by state, as well as a guide to BSWs.
Median salaries and median monthly debt payments were reported by the U.S. Department of Education. View our methodology for more details about these rankings or read more about the top-ranked schools.
Social Work Rankings Online and By State
Best in Social Work Schools - Details
Bachelor of Social Work Overview
A bachelor's degree in social work prepares students for a career helping those with issues that might include mental health, poverty, and substance abuse within families, groups, or as individuals. Social Work programs equip students with a strong foundation to become leaders, community organizers, innovators social service professionals, and helpers in their communities. Students who complete their BSW degree can work in schools, hospitals, government agencies, and anywhere their counseling skills are needed.
BSW students may be interested in future licensure. In order to adhere to social work licensing requirements, it is essential to choose a social work degree program that holds accreditation from the Council on Social Work Education (CSWE). This ensures that the college or university has completed a multi-step accreditation process designed by the CSWE's Commission on Accreditation. The process involves program self-studies, site visits and reviews that ensure students are properly prepared for a career in social work upon graduation.
What Can a Social Worker With a BSW Do?
Those who want to pursue social work jobs typically need to earn a Bachelor of Social Work, or a BSW. Each state has its own guidelines on how much education is required to become a licensed social worker and most have a licensing option for graduates of a BSW program,though licensure is not necessary to find work as a BSW.
With a Bachelor of Social Work, graduates can typically find employment in areas including: children and families, mental health, substance abuse, community-based practice, administration and policy, aging, and healthcare. As en example of roles for BSWs interested in children and families, a social worker with a BSW can provide a wide range of services, such as working with families throughout the adoption and foster care process, offering child protective services, or finding services for pregnant teens.
Social work jobs focused on mental health or substance abuse center around counseling patients and family members, as well as around providing assistance for issues like employment or housing. With a healthcare focus, aspiring social workers can work in a case management, crisis management, or counseling capacity with patients of all ages, in addition to helping family members and caregivers.
Where Can a Social Worker Work With a BSW?
Those who work with children and families often find jobs at state or nonprofit organizationss. Those with a Bachelor of Social Work focused on mental health and substance abuse can find employment in clinics with inpatient services, outpatient services, or both.
Health care social workers can work in private care settings, such as clients' homes, or in hospitals and long-term care facilities. Public service jobs are also available through local agencies. Other common places of employment include local and international nonprofit organizations, government agencies, schools, legislature and advocacy groups, among others. Entry-level jobs for BSW graduates are diverse and often depend on the student's interests.
How Much Does a Social Worker With a BSW Make?
Aspiring social workers should consider their potential average salary when determining what specialization to choose and where to work. The average salary for someone who holds a Bachelor of Social Work is $49,000 a year. A variety of factors can impact a graduate's actual starting salary. One consideration used by hiring entities is the applicant's work experience. An entry-level applicant with a BSW will probably earn less than someone with several years of experience in the field.
Specialization also matters when determining social workers' salaries. Private practice employers often pay better than their counterparts at public agencies. Additionally, specific job responsibilities also impact expected pay for graduates.
Continuing Education
Bachelor of Social Work graduates who become licensed social workers typically must adhere to the state's continuing education requirements in order to maintain an active license. Since the Licensed Baccalaureate Social Worker (LBSW) license is one of the least advanced licenses, BSW graduates typically have the fewest continuing education hours to complete during their renewal period, especially compared to social workers licensed to work in a clinical setting. Once they become licensed, social workers should review their state's continuing education requirements to make sure they accumulate enough hours before the next renewal period.
Those who wish to qualify for more advanced social work licenses and job opportunities can also continue their education with a more advanced degree. A master's degree in social work can be completed within one to two years for students who already hold a Bachelor of Social Work.
Licensure and Accreditation
Students pursuing a Bachelor of Social Work should only consider BSW programs that are accredited by the Council on Social Work Education, or CSWE. This is a national association and the only accrediting agency for social work in the U.S. They evaluate academic programs on an ongoing basis to ensure the caliber of education is sufficient for graduates to work effectively in the social work field.
Most importantly, social work state boards require licensees to graduate from CSWE-accredited programs. Those who do not graduate from a CSWE-accredited school run the risk of being ineligible to apply to become an LBSW after graduating from an unaccredited program.
There are more than 750 CSWE-accredited programs for both BSWs and Master of Social Work degrees, or MSWs. Prospective students can consult the CSWE website to find the appropriate programs available in their state. This can help narrow the field of options as students decide on the best educational opportunities in social work.
BSW Program Requirements
A full-time BSW program typically takes four years to complete with a total of 120 credit hours required. Bachelor of Social Work graduates also usually need to complete fieldwork. Prospective students need a high school diploma or GED to qualify and some schools may also enforce a minimum GPA requirement. Many schools also require applicants to take either the SAT or ACT exam, so students should confirm these requirements before applying to a specific BSW program.
References