20 Best Online Social Work Degrees 2020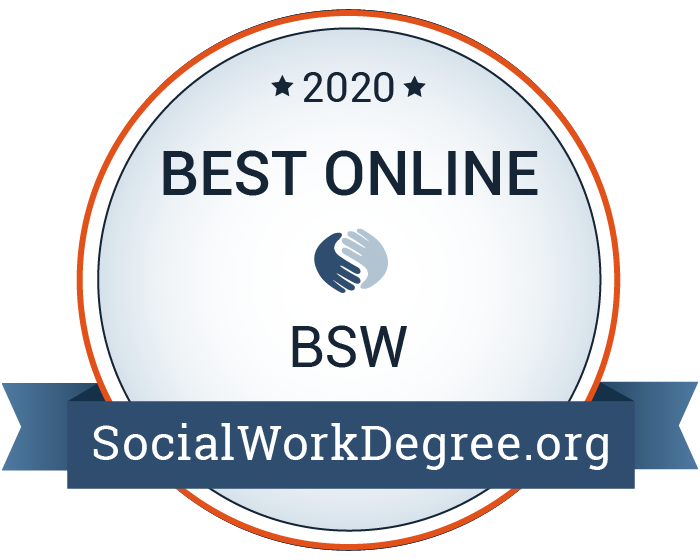 To help students make the best financial decision, we ranked the top 20 schools in that offer online BSW programs based on the median net monthly income one year after graduation. The school with the highest median net monthly income is University of North Dakota, at $3,109. University of Louisville students have the lowest median debt, with monthly payments of $167. The range of median net incomes for the top 20 schools is $2,191 to $3,109 per month.
Median salaries and median monthly debt payments were reported by the U.S. Department of Education. View our methodology for more details about these rankings or read more about the top-ranked schools.
Below, we also provide a guide to earning an online BSW.
Online BSW Overview
An online bachelor of social work degree prepares students for a career providing valuable services to others designed to enhance their quality of life. Those who have earned an online bachelor's degree in social work have gone on to make a positive difference in the world by working in schools, hospitals, non-profit organizations, mental health facilities, and government agencies, helping those with mental illness, substance abuse problems, and poverty issues. Students can earn their degree completely online or through a combination of on-campus and online coursework, as schools offer the flexibility to earn their degree on their own time.
All online schools of social work should hold accreditation from the Council on Social Work Education (CSWE). The CSWE's Commission on Accreditation has devised several standard requirements for all colleges and universities that offer online social work programs. This ensures all social work students seeking a degree are meeting the same educational and training standards.
How to Choose a BSW Program
Aspiring social workers seeking to earn a Bachelor of Social Work, or BSW, are no longer limited to on-campus programs that require full-time enrollment and a long commute, it is now possible to earn a social work degree online through an accredited program. Students looking for the best BSW program — online or on-campus — should consider several factors.
Students should choose a CSWE-accredited program to ensure that the program meets educational standards and makes it possible for students to meet the criteria for state social worker licensure later. Students should also consider how a program's tuition compares to the amount of financial aid they'll receive from the school, as well as to the average salary of a LBSW in the student's area.
Prospective students should also look at graduate statistics for a particular program. They can find information on the percentage of students who successfully complete the program and are hired upon graduation along with the salary these graduates earn each year. This information gives a strong indication of the quality of the school's BSW program. Students can also evaluate internship placement opportunities and specializations available in the program. For those with a specific passion within the field of social work, choosing relevant elective courses can help open the right doors for future employment.
Online BSW Programs
Students can earn a Bachelor of Social Work degree online while taking self-paced classes to fit their schedule. An online social work degree is ideal for a wide variety of aspiring professionals, particularly those who maintain a job while pursuing their studies. An online BSW is also well-suited for students who live far away from an accredited program and do not have the time to drive long distances. Additionally, pursuing an online degree can help students save money by eliminating the cost of on-campus room and board.
Students pursuing an online social work degree can expect to take classes on policy, practice, psychology and cultural anthropology. After completing general education requirements, they can also choose electives to support their specific interests in the social work field. This can set them up to pursue specialized entry-level careers upon graduating from the program.
While classroom coursework can be completed online, BSW students typically also need to complete field practice. Most online BSW programs offer field placement assistance to help students achieve this requirement before graduation. Field placement is completed as an internship in a social work setting, which can be done in the student's area of residence.