25 Best MSW Programs 2020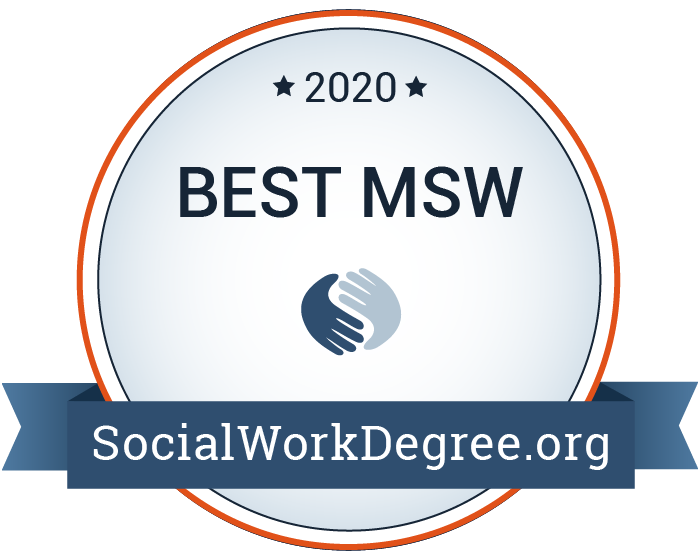 These are the 25 best MSW programs, based on median net monthly earnings one year after graduation. San Francisco State University and San Jose State University are tied for first, with the highest median net income for MSW alumni at $5,407 per month. The lowest median debt payments at the top 25 MSW programs is $175 per month for alumni of California State University-Chico. The range of median net incomes for the top 25 schools is $3,755 to $5,407 per month.
Below, we also highlight the best MSWs by state, as well as a guide to MSWs.
Median salaries and median monthly debt payments were reported by the U.S. Department of Education. View our methodology for more details about these rankings or read more about the top-ranked schools.
MSW Rankings Online and By State
Best in Social Work Schools - Details
MSW Overview
Master's degrees in social work are ideal for students interested in advancing their careers and opening more doors within the field of social work. Graduates can go on to achieve licensure in whichever state they practice in. Licenses vary from state to state, and some require an exam, while others don't. Examples are LMSW or LCSW. Those who have successfully completed social work master's programs also have the opportunity to pursue advanced leadership positions positions in the field. An MSW credential is often highly respected and graduates are frequently able to start working at a higher salary level.
When choosing an MSW program, students should ensure that the college or university holds accreditation from the Council on Social Work Education (CSWE). A social work master's program with CSWE accreditation ensures that the degree coursework meets the unified standards set up by the organization.
What Can a Social Worker With an MSW Do?
Graduates who earn a Master of Social Work can choose from a large pool of jobs serving diverse populations. MSW graduates passionate about working with children and youth can fill roles in schools as school social workers or guidance counselors, in a variety of child welfare roles like caseworker or advocate, or in nonprofit organizations that serve children and youth.
Master of social work graduates who wish to work with adults also have an array of job opportunities. Some options include working as a substance abuse counselor either one-on-one or in a group setting, as a clinical mental health therapist, in eldercare facilities, as a community organizer, or as a social services provider either in community based organizations or in governmental organizations.
To prepare for these different types of MSW jobs, students are typically able to choose a specialization track as part of their curriculum and must declare this specialty before graduating. Each school differs in the social work tracks they offer, so students should use this as part of their criteria for choosing the best MSW program.
Where Can a Social Worker Work With an MSW?
The types of work settings where social workers can find employment are as varied as the types of jobs they can find. Those pursuing a medical-focused career are likely to work in clinics, hospitals, private practices, or eldercare facilities. Substance abuse counselors with a Master of Social Work can find relevant jobs at substance find relevant jobs at treatment facilities or behavioral health agencies.
MSW graduates with a specialization in children and youth can work in non-profit organizations, schools, and government agencies such as child welfare. Social workers with a passion for serving military personnel can find civilian employment on military bases, enlist as a social worker, or work at the VA. MSW graduates who study community practice or policy and administration may find work in nonprofit organizations, community-based offices, foundations, and even government agencies and legislatures.
How Much Does a Social Worker With an MSW make?
The average MSW salary in the U.S. is $51,000 a year; however, multiple factors can impact an MSW social worker's salary. For instance, social workers with more years of experience will qualify for higher salaries than those who recently graduated from their MSW program.
Another factor affecting MSW salary is the location or work environment. For example, those employed in the private sector could very well earn more than those working in a public agency. Social workers with a career in a medical or clinical setting are also likely to earn more.
Continuing Education
Most states require continuing education in social work in order for licensed social workers to maintain their active licenses. However, each state sets its own guidelines for how many hours are required and over what period of time. Different types of licensure are also likely to require different types of continuing education. A master of social work graduate practicing in a clinical setting, for example, may need to complete more credits than an MSW with no clinical license.
Continuing education is also available in the form of a more advanced degree. The doctor of social work (DSW) is a practice-focused degree, while a Ph.D. is more research-focused. These degrees can be pursued by social workers who wish to follow the most advanced career path in the field of social work.
Licensure and Accreditation
In order to become a licensed social workers, prospective social workers should narrow down their MSW programs to colleges and universities that are accredited by the Council on Social Work Education (CSWE). This national organization evaluates programs to ensure quality education in more than 750 accredited social work programs across the country. The CSWE is the only social work accrediting agency in the U.S., so it's important for students to confirm this accreditation before enrolling in an MSW program. Most states, if not all, require licensed social workers to graduate from a social work program that is accredited by the CSWE. Neglecting this crucial step could lead to graduates being unable to receive a state social work license.
MSW Program Requirements
Students who enroll in a CSWE-accredited MSW program can expect to spend two years earning this advanced degree. Applicants must hold a bachelor's degree before enrolling. Those with a bachelor's in social work may be able to complete their classes in one year, depending on the institution. Students are typically required to take the GRE as part of the MSW application process.
After the first year, aspiring social workers usually pick a specialization. Exact options vary school by school; concentrations typically include children and families, mental health, health, and aging populations.
References