25 Best Online MSW Programs 2020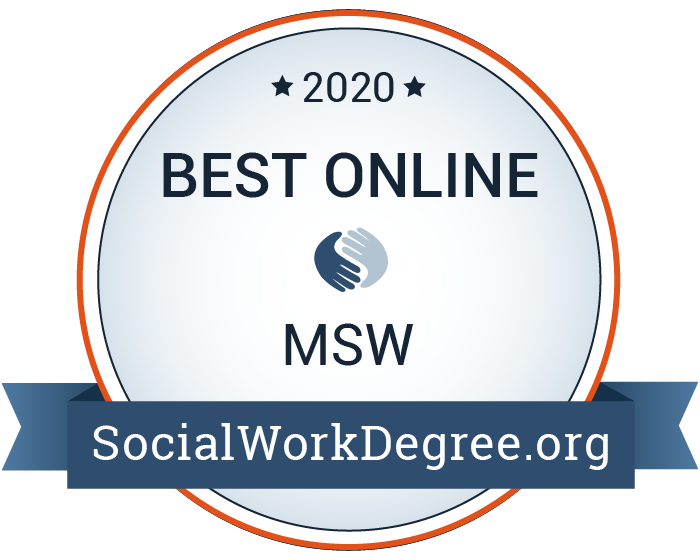 The 25 schools on this list offer the top online MSW degrees, based on net monthly earnings one year after graduation. Humboldt State University is ranked #1 with a net monthly income of $4,180. University of Nevada - Reno MSW students had the lowest median monthly debt payments on the list, at $207. The range of median net incomes for the top 25 schools is $3,260 to $4,180 per month.
Median salaries and median monthly debt payments were reported by the U.S. Department of Education. View our methodology for more details about these rankings or read more about the top-ranked schools.
Below, we also provide a guide to earning an online BSW.
Online MSW Overview
A master's degree in social work online is an excellent way for students to advance their careers and focus on work in a clinical setting. Choosing an online MSW program allows students to pursue their degrees from home and provides students with the flexibility needed to still work full time. Online MSW students can learn more about providing case management and clinical services. They will also be able to focus on a specific field that can help them stand out as a candidate during their job search.
When choosing a social work master's program online, it is important to verify that the university holds accreditation from the Council on Social Work Education (CSWE). This ensures that schools have completed a multi-step accreditation process designed by the CSWE's Commission on Accreditation that involves program self-studies, site visits, and reviews. CSWE accreditation provides a standard across social work degree programs so that all students are meeting the same requirements.
How to Choose an MSW Program
Aspiring social workers should carefully review both online MSW programs and on-campus MSW programs to ensure their needs are fully met. The first step in narrowing down an MSW program is making sure it is accredited by the Council on Social Work Education (CSWE). States typically require this qualification as part of their licensing process.
Next, prospective students should consider whether they should earn their degree online or in a traditional classroom setting. Those who plan to work or don't live near an accredited MSW program may prefer the online route. Tuition is also an important factor for students searching for the right program, as are living and commuting expenses.
Once a student's list is narrowed by accreditation, cost, and logistics, MSW programs can be evaluated in a few different ways. Future social workers who are passionate about a certain field or demographic should make sure the program offers the appropriate specialization. Field placements for internships during the program are also important since future employers consider work experience during the hiring process. Students should also research job placement records and average starting salaries for program graduates. These statistics give a very clear indication of the school's reputation among the area's relevant employers.
Online MSW Programs
Online MSW programs are an increasingly popular option for aspiring social workers as well as current social workers who wish to pursue an advanced degree. One of the most common reasons for pursuing an online master's degree in social work is flexibility. Online MSW programs often offer class schedules that are more convenient for those who work full-time or part-time.
Physical proximity is another factor for students who live in areas without an accredited MSW program nearby. Many states have only a few MSW programs available across the entire region, so attending in person isn't possible for students who live hours away. Some online MSW programs require students to come to campus for a minimal amount of time, but this requirement takes much less time than a traditional on-campus program.
Online MSW programs are typically broken into two components: online classes and field education. Students who don't live near the school can complete their field assignments at an agency close to their home.
Most online MSW programs allow students to access all of the same resources — both physical and digital — that on-campus students have. Online students often have the option to arrange face-to-face meetings with professors if they choose. This flexibility allows prospective social workers to balance their logistical needs with their learning needs while earning a master's in social work online.
References